Ori and the Will of the Wisps Review
I have fond memories of Moon Studios' Ori and the Blind Forest. The gameplay was tight, the animations fluid and the world was stunning. It was one of my favourite games of 2015. It was the first platformer I had played in years. Without Ori, I would have likely missed out on experiencing Cuphead and Dead Cells.This was why I was so hyped when Microsoft dropped the first teaser at E3 2019. Well, I finished Ori and the Will of the Wisps today, and it left me with some mixed feelings.
Story
The game takes place immediately following the ending of Blind Forest. Ori, Naru and Gumo name Kuro's hatched baby Ku, raising them as one of their own. Ku is born with a broken wing, and can't fly until Naru attaches one of Kuro's feathers to their wing. After taking off with Ori, they enncounter a storm which blows them into Niwen. As Ori awakens, they go in search for Ku and your journey begins.
After searching for Ku, Ori learns that Niwen is called the Silent Woods; a corrupted, desolate graveyard of owls, with murky, untraversable water. Later, you learn the that corruption spread through the forest following the passing of the Spirit Willow. With the death of the Spirit Willow, the Voice of the Forest fragmented into five Wisps. Ori's journey to find Ku helps rid the forest of the corruption, while you uncover the impact of the corruption and weye-watering motivations of the antagonist, Shriek.
The story had some high moments, for sure, with the level of emotional impact felt throughout Blind Forest. However, I ultimately felt the story falls short of the standards set by the predecessor. You could almost sense the unease Moon Studios had in approaching the sequel. This is especially reflected in the game's conclusion, where I felt that events transpired in somewhat contrived manner. I think the conclusion was less about providing a satisfying ending and more about giving themselves the freedom to move away from these characters. 
Gameplay
Will of the Wisps is a metroidvania 2D platformer, with environmental puzzles and a variety of combat options. The 2D metroidvania genre can be a bit unforgiving when it comes to exploration. They often require very precise movements, where minor mistakes send you back to the start of the puzzle. Will of the Wisps is much more forgiving in this regard. Puzzles are challenging, but not infuriatingly so. Just when I thought I needed a new ability to progress, the solution would become apparent. Likewise, it never demands the same level of precision as something like Celeste. The platforming and interconnectivity inherent to each region is creative and fun in equal measure. It's a genuine joy to explore this world. The combat, however, is not as forgiving or fun.
Throughout your journey, you encounter a litany of enemies. From winged or grounded, to armoured or agile, enemies pose unique challenges. Luckily there are a variety of weapon options. However, most of these options eat away at your energy, which requires crystals to replenish. It means that you often need to rely on your underpowered sword more often than should be necessary. As a result, I spent most of the game using the same combination of ineffective weapons as a waited for crystals to respawn. Compared with its contemporary's, Cuphead and Dead Cells, this feels a little outdated and, frankly, quite frustrating. This issue is exacerbated by the literal hit and miss of attacks.
Each boss has roughly the same phases. Cling to the wall while the boss attacks, then hit its massive head. Seems straightforward until you realise you've unleashed a flurry of attacks and not one has registered. Fortunately, I only encountered this during boss fights. Unfortunately, the bosses adhere to the souls-like format of hitting like a tank and having an unending supply of health. It feels like they're trying to emulate the combat challenges you may have faced in Hollow Knight, but Ori simply doesn't have the sophistication to nail that. A criticism of Blind Forest was that there were too few bosses. Honestly, I don't think Will of the Wisps is improved by their inclusion. If anything, I think it exposes the flaws of the combat system unnecessarily.
Progression
Progression in Ori is familiar. As you beat bosses, you acquire new abilities which facilitate access to new parts of the map. You gain more powerful attacks which drain various amounts of energy. You also acquire Spirit Shards which give passive abilities. They tend to augment the abilities you have learned, while others give you added resilience. You can upgrade these at vendors, allowing for more varied attacks.
As this is a metroidvania, unlocks are not restricted to combat options; they `facilitate access to new areas of the map. Once you have navigated the puzzles and unlocked each area, they remain unlocked. It's a very satisfying loop.
Graphics and Sound
Starting Will of the Wisps is a wonderful feeling. Bioluminescence radiates in moonlit regions. Greens pop in sun kissed forests. Snow laden mountains feel brisk, while caverns feel claustrophobic. The aesthetics are immediately recognisable. Likewise, assets feel unique. Each tree is distinct, each nook in a cave distinct from the last. A lot of care has gone in to the crafting of this world. Will of the Wisps is a beautiful game.
This beauty is used effectively to tell the story. As you progress throughout your journey, you enter regions so drearily infected by the corruption. It's a wonderful juxtaposition that highlights what's at stake, nullifying the need for exposition.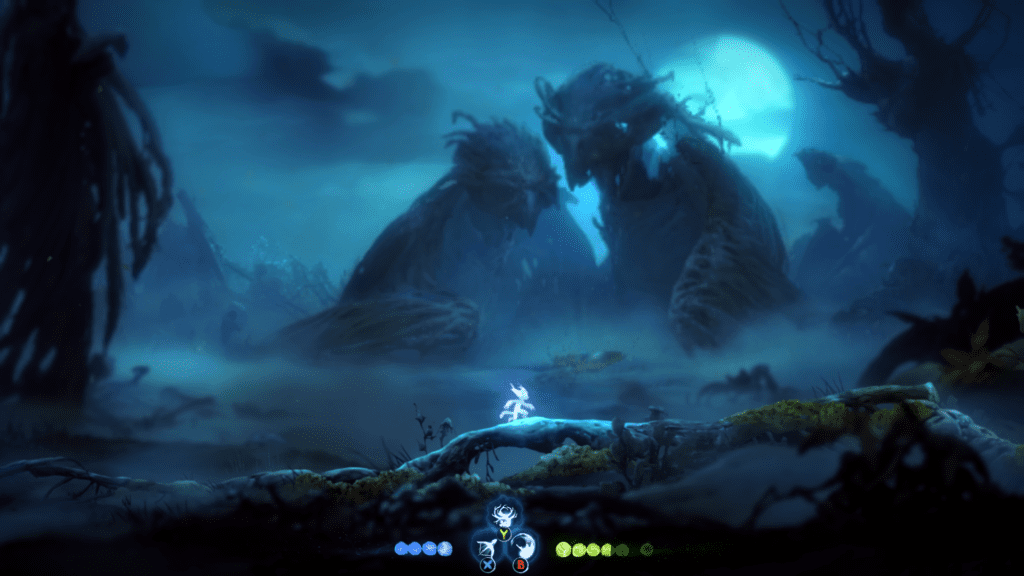 Each region has its own theme song, and it really adds to the environment. Bind Forest had one of the nicest original soundtracks I've experienced in a game. Will of the Wisps continues that.
The animations are also lovely and help maintain the feeling of satisfaction as you explore and solve puzzles. Ori glides through the air with their earls trailing behind and flopping upwards as you fall. Coupled with the sword noises and sounds Ori makes, sword attacks give you the feeling Ori is trying their hardest.
That said, as a product of this floaty animation, the combat does not feel impactful. Aside from armoured beetles, I can't really recall hitting an enemy and thinking it felt weighty. The result is a combat system which feels devoid of impact.
Performance
I played this on both Xbox One X and PC (6800K/1070/16GB/SATA SSD) and found absolutely no issues. I turned off motion blur because I like my eyes, and adaptive resolution. At 1440p, I never seen the game drop below 130FPS, and never noticed any stuttering. The game run so well. This was also the case on Xbox, where, from what I can tell, there was never a drop below 60FPS at 4K.
As a side note, the game is particularly stunning in 4K HDR. I just primarily played on PC for the higher frame rate, given the reaction time requirements.
Conclusion
I didn't finish this game feeling as strongly for Will of the Wisps as I did Blind Forest. It's a beautifully crafted game which adds directly to the story of the first. Some may find closure in the story, however I found it underwhelming and a little awkward. That's not to say it undermines the journey. The journey is equally heart wrenching and evocative as its predecessor.
The additions they've made to combat options, while enjoyable, feel entirely unnecessary. I think I used the bow and arrow for a couple fights where the DPS was necessary. Rather than feeling fluid like its predecessor, it feels a bit disjointed and cumbersome at times. Likewise, the combat limitations were exposed by questionable choices in boss design. I do think that some players might find this disengaging.
The platforming is much improved over its predecessor. Puzzles are tough but fair. They present significant challenges, but don't require the same sort of dexterity games like Celeste demands. I think that accessibility opens the game up to more people. That said, the absence of accessibility options does close the door for others. This is something the industry as whole needs to improve on.
Having spoken to friends recently about Blind Forest, I didn't realise how contentious the water escape was. I'm pleased to note that escape levels in Will of the Wisps were both creative and fun, if a little repetitive.
While Will of the Wisps has some issues, I am comfortable recommending the game. It should be noted that, for its flaws, this is still a solid game. The things I found frustrating may be things you take enjoyment from. I also think it might be a must play if you enjoyed Blind Forest.
Verdict – Recommend
---
Enjoyed what you've read? Check out the first entry in our new series "The Neuroscience of Gaming" and our review of Indie Game "Alien Scumbags"
Make sure you stick with Countr Cultur for the latest gaming news, reviews, and features from around the world. To receive updates on all CC posts, be sure to follow us on Facebook, Twitter, and Instagram.
Also, come and chat with us on Discord!
Similar Posts: